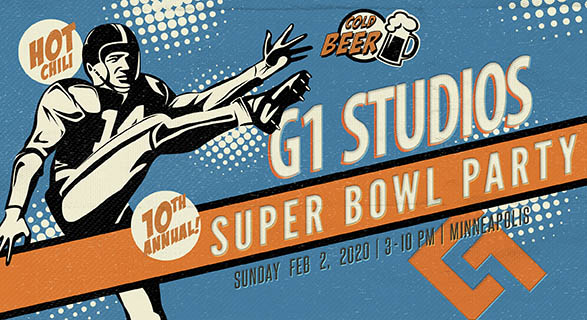 My how the time flies.  Please join us for our 10th Annual Super Bowl Party!
Everyone has his or her own reason to enjoy the biggest party of the year – the Super Bowl! Whether it's cheering for your favorite team, watching the best commercials, dancing during the halftime show (this year performed by J.Lo and Shakira), or eating delicious food – we invite you to enjoy it all with us for Super Bowl 54!
We are excited to host our 10th annual Gamut One Studios' tailgate experience inside our 10,000 sq. ft. studio. We host this big event to express our appreciation to our clients, families, and friends – and together we also give back in our community to help those in need.
Community Support:
This year our party will support the Think Great Foundation, which has the mission to enrich and enhance the lives of military and veteran spouses by supporting the accomplishment of their educational and career goals.
At the party and through our online auction site, you will be able to make an impact with your financial support of these military families.
Hope to see you there!
Sunday, February 2nd, 3-10 p.m.
3 p.m. keg is tapped & tailgating begins.
Enjoy some great football fare including the Gamut One Chili Cook-off!
5:30 p.m. enjoy the big game on our amazing 35 ft. High Definition screen!
Kid's interactive fun zone with basketball shoot-out and 34 ft. bouncy obstacle course!
Check out the Palace Arcade with some of the best old-school games of the 80's. No quarters necessary!
Come early to claim your spot or bid on the VIP seating (best seats & includes wait service).
Strike your best pose in our famous photo booth!We greatly appreciate your early RSVP to help with our preparation
Please note, auctions will be hosted online with easy access via your mobile device. We will only be able to accept credit card payments for auction items. Cash and check donations to Think Great Foundation will still be gratefully accepted.