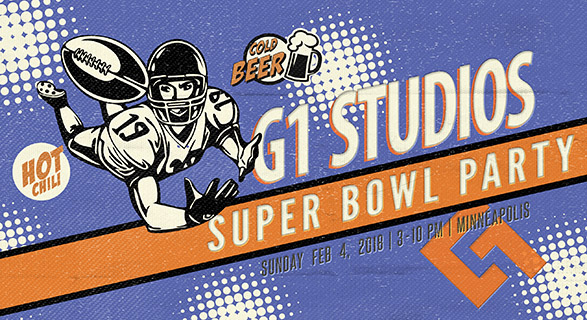 Number Eight is going to be Great!

Could this be the year that the Minnesota Vikings play in U.S. Bank Stadium for Super Bowl 52? It just might happen!  Bring friends & family to tailgate, play games and of course, cheer on the team of your choice (Skol! Vikings!) as we watch and celebrate our home town Super Bowl.

Doors will be open at 3pm and we'll have hot chili, cold beer and new this year, an 80's style arcade room with a few of your favorite childhood video games.
This year we are proud to support Open Arms of Minnesota, a fantastic non-profit that delivers fresh, nutritious meals to people struggling with cancer, HIV and other life-threatening illnesses.  We'll have some great silent auction items and a Gluten Free Cereal Drive.  We hope you will join us and bring a box or two to support the great work that Open Arms does in our community.
See the Gamut One crew in action at Open Arms
Find out more about  Open Arms of Minnesota

Please help us with preparations by reserving your spot here….  [ RSVP Here ]
Helpful info for our Gluten Free Cereal Drive…
Popular Gluten Free cereals:
General Mills' Cheerios
Rice Chex
Corn Chex
Nature's Path Corn Flakes
Assorted Nature's Path Cereals
Puffed rice
Popular Gluten Free Granolas:
Bakery on Main Gluten-Free Granola
Boulder Granola
Trader Joe's Gluten-Free Granola
Udi's Gluten-Free Granola
Gluten Free Oatmeal
Some oatmeal can contain trace amounts of gluten. Look for gluten-free labels.
A little recap of last year's party.