With an aggressive, long term marketing plan in place,  Medivators' Creative Director, Sonia Leonard, wanted to capture a variety of images on location including people and environment as well as complex product photography at their Houston, Texas R&D lab for use in an array of marketing applications.  Recognizing that Medivators' image needs were widely varied in theme, style and final use, Gamut One knew that all images would still need a consistent, finished result from an experienced, versatile photographer.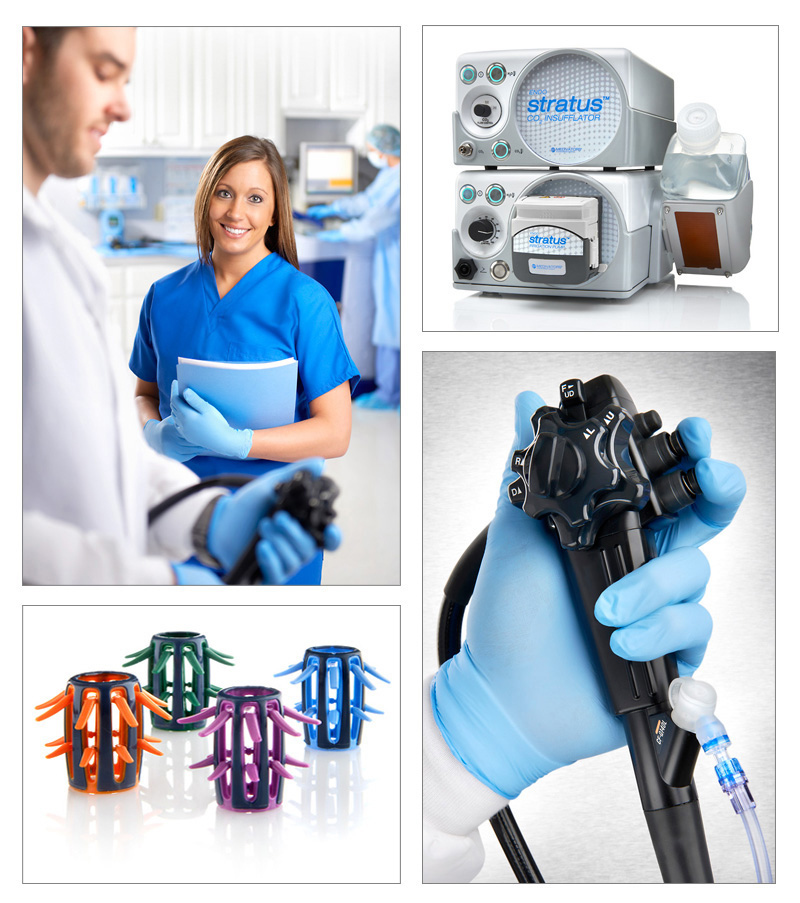 In order to streamline the process for our busy client (recent merger, new product line), Gamut One photographer, Bill Bartlett, who has over 25 years of expertise photographing medical products and more, helped Medivators set an efficient photo shoot agenda for a rigorous five day shoot.
Bill designed a plan with the Medivators' marketing team that would create a substantial library of proprietary images in a broad range of themes and styles that could later be used individually or combined in detailed composites to control position and focus as well as allowing flexibility in the future to re-configure the elements for a unique finished image.  This is an effective way to visually create and express a marketing message such as showcasing Medivators' high level of personal service and detailed product in a single composite.
For example, in the below image, the model, background and product were all shot at different times with their own precise staging structure to ensure the perspective, lighting and composition for both images flowed with one another.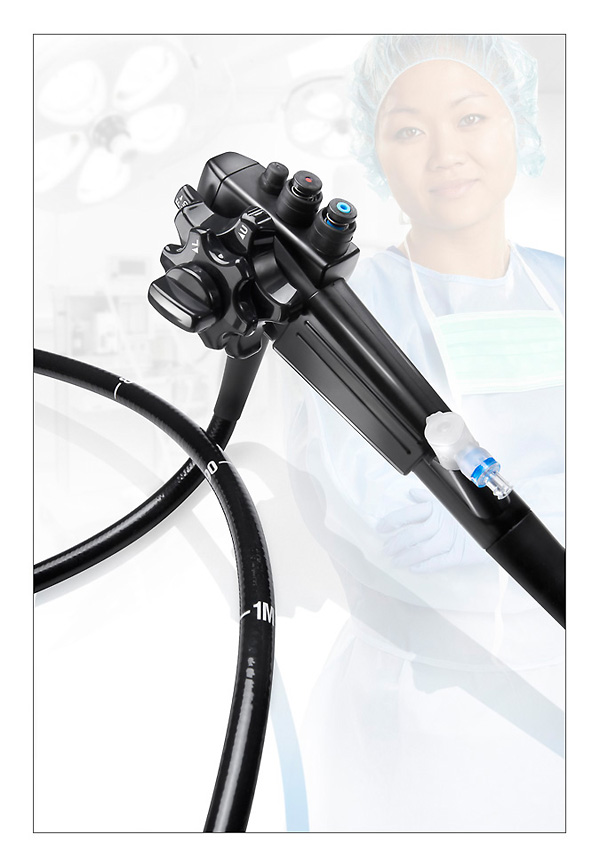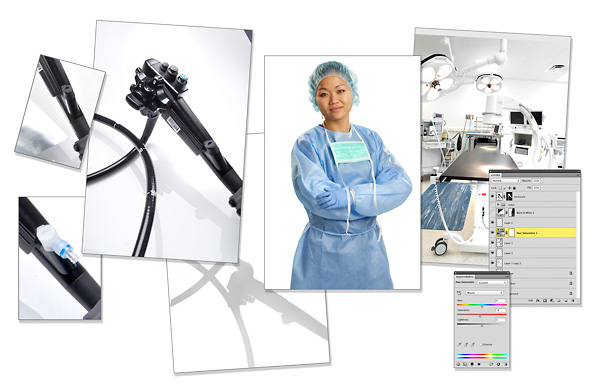 Gamut One Studios and their clients often find exceptional value in this approach for building a client's internal library that can be used in a variety of applications for long-term use.  The opposite approach, where companies purchase stock images will often result in inefficient spending, lack of personalized images also commonly used by competitors and poor usage options for long-term, multiple uses.  Gamut One Studios' photographers will always work with our clients to meet all their needs in a carefully planned and efficiently executed photo shoot.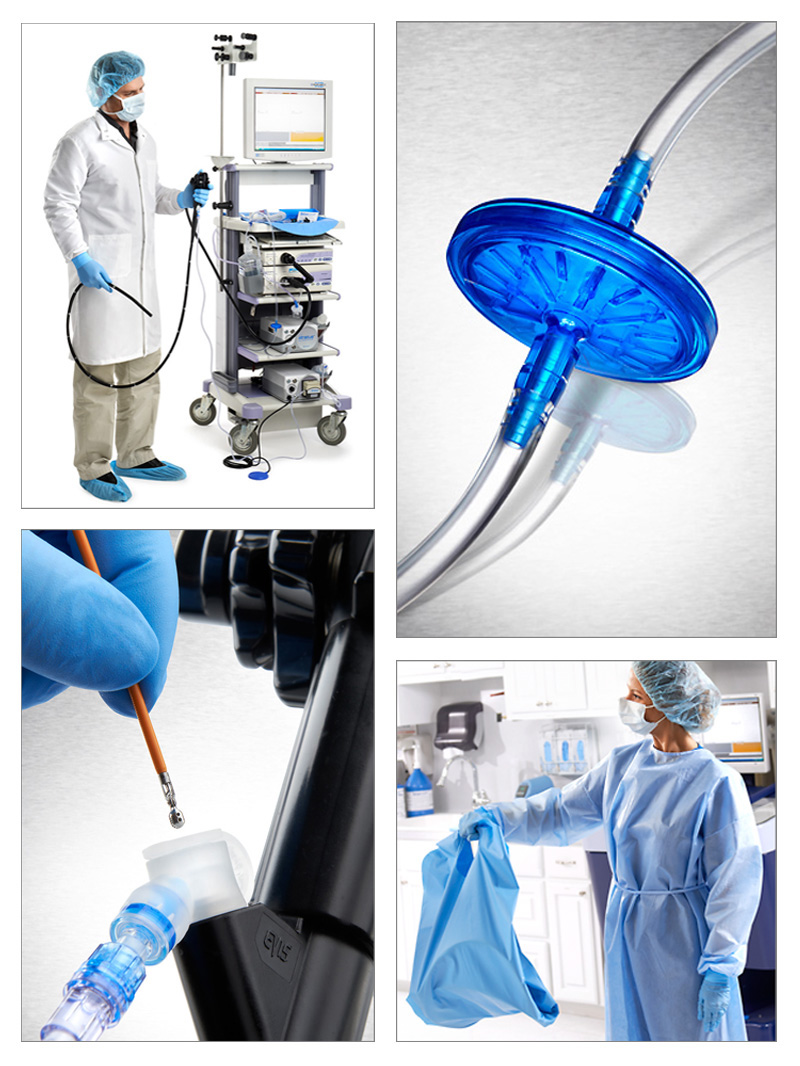 Additional to thorough planning, pre-production meetings and shoot day execution, the final piece of the Medivators' photo shoot involved Bill's evaluation and adjustments of images to create an essential compilation of finished, professional images.  Medivators now has a collection of high quality, original images that will be useful long term in diverse applications.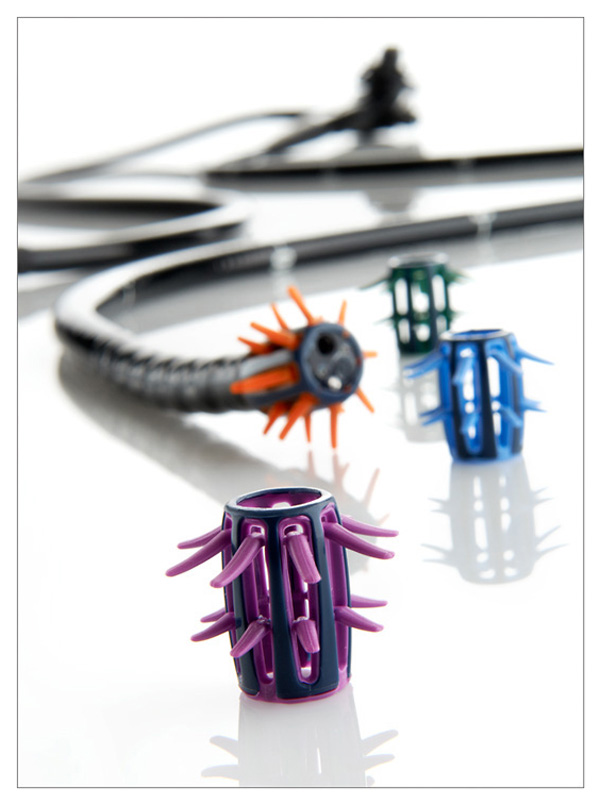 Do you have a photography dilemma or are you wondering if a photo shoot could be in your budget?  It will be worth your time to contact us at Gamut One Studios and we can walk you through the various options for achieving the best value and the highest quality, custom images that your business needs.