Recipe for Success
If you've been to the Minneapolis-St Paul International Airport lately, you know that the Minneapolis Airport Commission (MAC) is pulling out all the stops to keep travelers entertained, well-fed and happy. Gamut One Studios' Jeff Schmieg, our food shooting specialist, has been part of that project for over fifteen years now.  MAC's most current promotion is a bi-monthly coupon book called Eat, Shop, Relax. Each cover of this book is an entree image shot by Jeff from a MSP restaurant, such as French Meadow Bakery, Ikes, Axel's BonFire Grill, TGI Fridays, and more.  Working with Kate Dougherty from MAC Marketing, and food stylist, Laurie Goeman, Jeff uses his years of food photography experience to create mouth-watering images for the featured restaurants with such detail that visitors and travelers can almost taste them!
Of course, every project has different challenges and this is where Jeff's extensive experience shines. Whether it's planning a location shoot at the airport or trying to simulate the atmosphere of the restaurant in studio, there are issues and details that need creative solutions.  Props, backgrounds and table top surfaces are cleverly chosen to enhance each image aesthetic and theme as well as addressing height and size challenges like a horizontal product needing to fit the Eat, Shop, Relax book's narrow, vertical layout.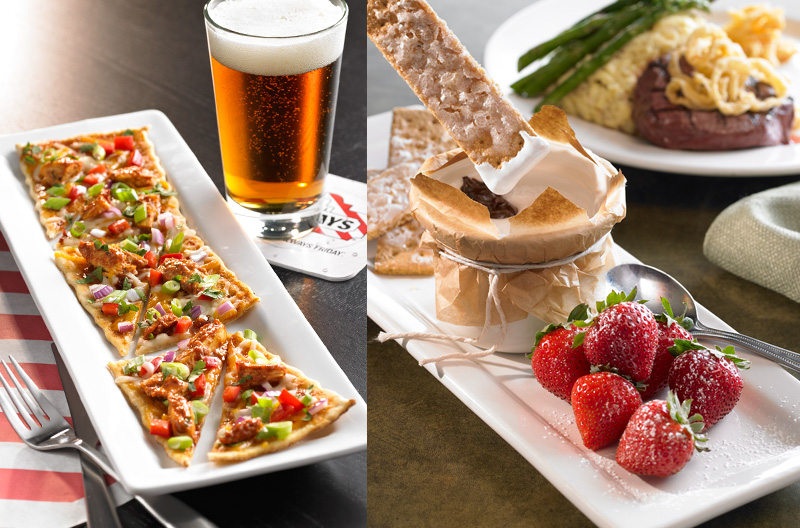 "Their creative, professional and detail-oriented approach always produces gorgeous looking photos. One thing that sets Gamut One Studios apart, aside from their vast amount of experience, is the extensive prop and background collection that is available."     ~ Kate Dougherty, Minneapolis-St Paul International Airport Marketing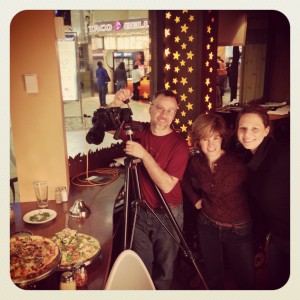 Food related issues are worked out as Jeff, Laurie and Kate communicate with
the restaurants to learn the specific details of each entree and how those will affect the shoot. Is the entree going to arrive par cooked or does it need to be created fresh on set? Do we need some fresh cilantro to top the dish? Working with a flexible and experienced crew helps in creating a tasty and successful image.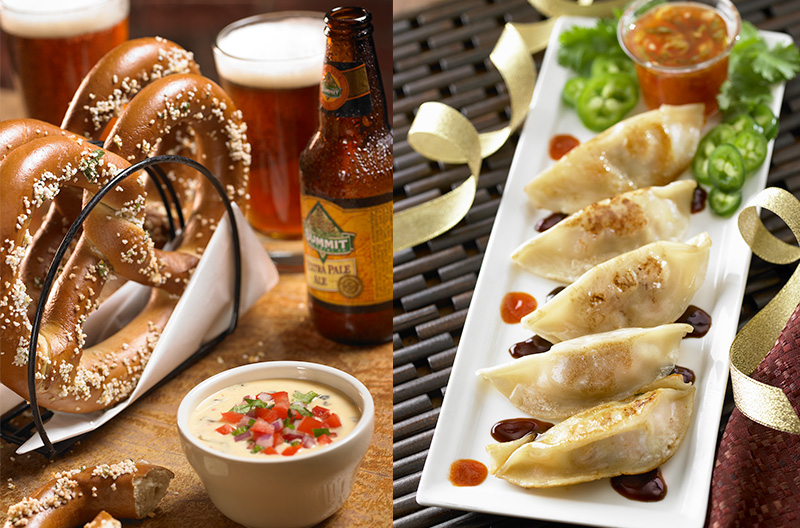 Well Crafted
And even with all the preparation, Jeff knows better than anyone that photographing food almost always involves some 'tricks of the trade'.  Keeping that bowl of soup or mug of beer looking like it is fresh and ready to be devoured can take tricks ranging from food replacements (hint: marbles hiding in the soup) to fast hands bringing in a new batch every few shots.  Gamut One Studios creates top-notch food images with help from food stylist, Laurie Goeman.  Laurie's eagle eyes and quick hands work their magic while Jeff perfects the lights, angles, and focus for achieving the ultimate fresh food image that fits perfectly into the layouts.  In addition, partnerships with clients like MAC's Kate Dougherty whose hands-on approach and upbeat attitude, help move a time-sensitive and demanding photo shoot along.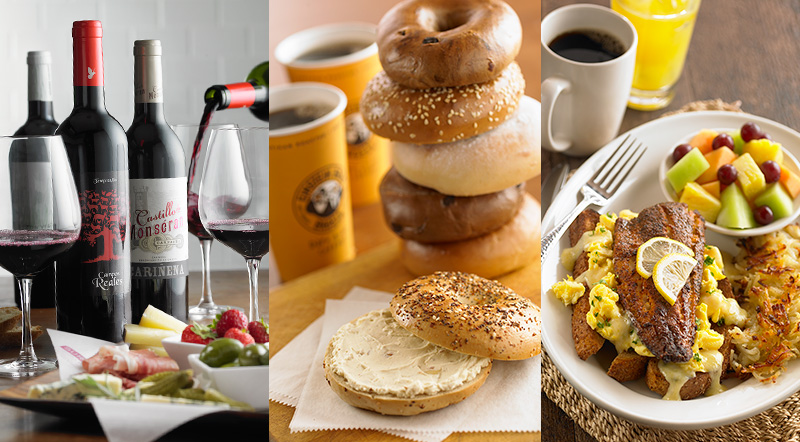 After all that goes into the photo shoot, the final result is an appetizing photo that draws customers into the restaurants. Next time you're at the airport, pick up one of the Eat, Shop, Relax booklets and see for yourself how Jeff's food photography looks good enough to eat!