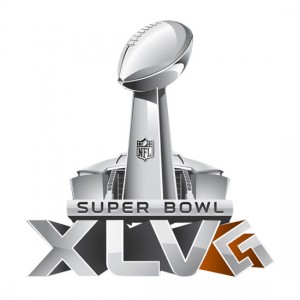 On February 6, 2011, Super Bowl XLV broke the audience record ratings with 111 million viewers. Gamut One Studios took part in this event as host to over 120 of our friends, family and wonderful clients, at our studio in Edina.
The kick-off party was more than just for the big game; it was to give thanks to our supporters for a great start to our re-branding as Gamut One Studios or "G1 Studios."
The party and the thrill of the NFC North, brought out the Packer fans inside many of the best Viking fans, who won't yet admit it. With a 31-25 Packer victory over the Steelers, the tightly contested game kept everyone glued to our 22 ft. HD screen, projected on our cove wall.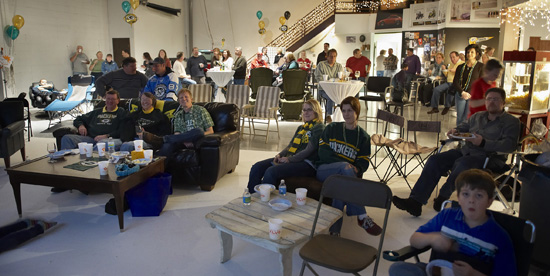 In true "tailgating" style, we filled the back of a pickup truck with two kegs of Summit Pale Ale, bottles of Michelob Golden Draft and parked it in our 10,000 sq. ft. studio. Fans cozied up on sofas, settled in at pub tables or parked themselves on their own lawn chairs.
The half time show brought out many dancers, both young and young at heart. Cathy Monsoor, studio manager, lead the charge to the front of the projection screen as she was compelled by the rhythmic dance beats of Black Eyed Peas' hit song "I Gotta Feeling."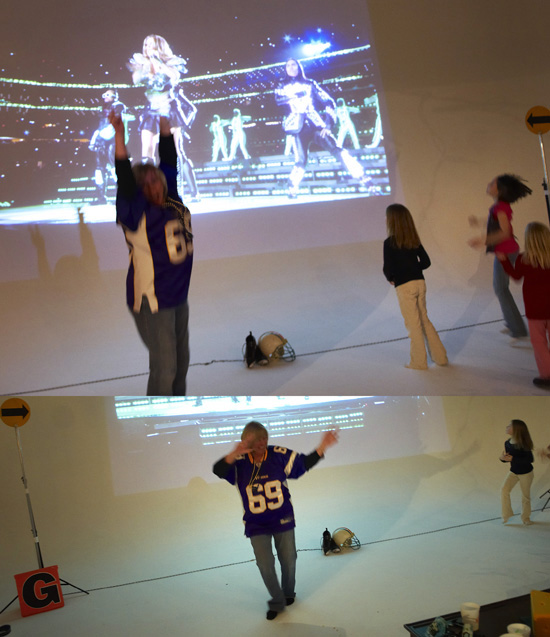 Cathy, donning her Jared Allen jersey, could be heard from the dance floor, "This is for all the Viking fans, who may never see our team in the Super Bowl!"
We wanted to create an environment where families could all enjoy this evening together. What better way than a  36 ft. inflated obstacle course for the kids? The kids raced, jumped, bounced and piled up on each other and everyone had a blast.
Many kids also tested out their passing skills at the "Aaron Rodgers Passing Challenge" game. Kids as young as four, attempted to complete a pass with a Nerf® football to the receiver "Donald Driver." Parents ought to be proud. There is a good deal of talent on the horizon!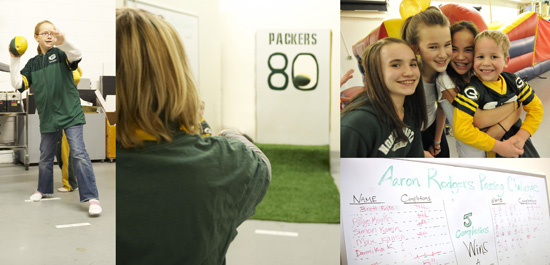 It wouldn't be a party without food and we had plenty. The hearty menu included meatballs, veggies, hot dogs, nachos, beef-wrapped pickles and of course, seven varieties of cheese. We also want to thank so many of you who contributed to the plethora of desserts. We are still enjoying the sweets.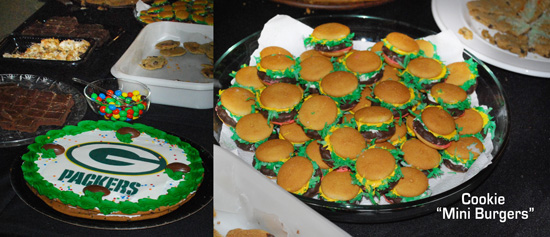 Most popular of all our fare, was our chili cook off. Congratulations to Bill Bartlett, who takes home the first "Golden Chili Pepper" trophy for his winning recipe. The award ceremony will take place in late March of 2011. G1 Blog readers will be the first to get the announcement.
Among the eight entries, including chicken, turkey, and beef chili, Bartlett's was the only sirloin steak recipe. Many in the competition complained to the judges and even confronted Bartlett at half time about his meat selection, but Bill's only reply was, "Why wouldn't you go with sirloin? I want that golden pepper trophy and I won't let chicken or turkey get in my way!"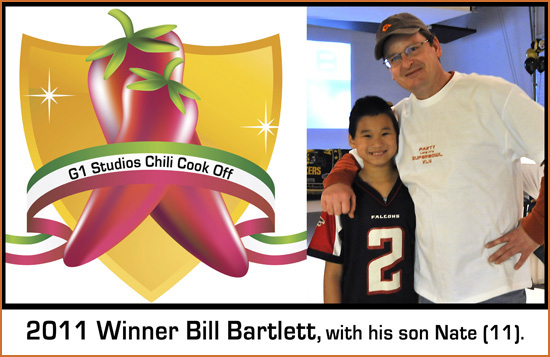 Everyone had a chance to put on their silly face or foam cheese hat and ham it up for our Photo Booth. We filled our magnetic wall with some of these great shots. Next time you're at the studio, check it out.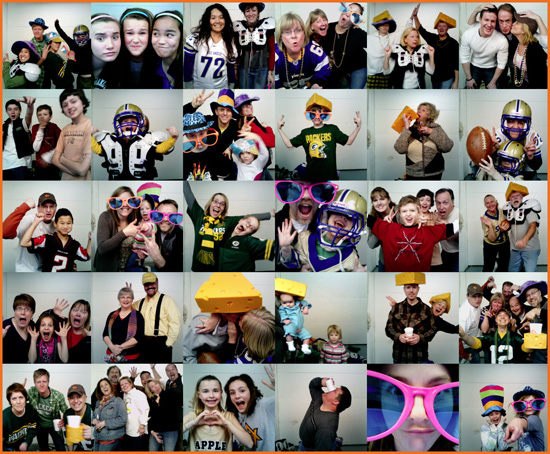 We plan to make this an annual party for the Super Bowl. There's no telling who will be playing, but we know it will be fun because of all the great people we work with everyday.